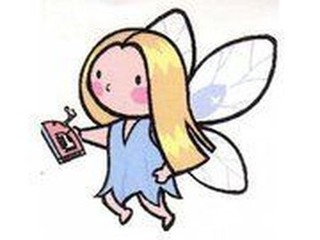 I have a pile of ironing on the spare room bed, and I seem to think that if I close the door and come back the next day that by some stroke of magic when I go in again it will all be done. Kind of like the movie
"The Prestige"
- go in the one door and out of the other, except my clothes go in rumpled and come out ready. Often I take it to the laundry because I just c.a.n.n.o.t face it.
However, this has not been the case and the ironing fairies have gone on strike and left me to do it. I hate ironing. Hate. And yes, Hate is a strong word - but no, this is not a mistake - I really, really, really do
HATE
ironing.
I came home, set up the ironing board, switched the iron on, and then sat on the couch and looked at it for a minute, trying to find some ironing mojo....
To the average person it's probably not that bad a task, but when we first moved here, we arrived with neither of us having work. We both just felt that we had had enough of where we were, and wanted to raise
Our Girl
here. We arrived, bought our house and then, quite miraculously, we started our own business doing laundry for a major national airline, various hotels, restaurants and clubs. We did this for about 2 years until the airline closed down and with it our work. We went to the airport twice a day, once at about 04h30 and once at about 16h00. At 16h00 we would deliver everything that we had washed, dried and ironed from the 04h30 collection, and at 04h30 we delivered everything that we had washed, dried and ironed from the collection we made at the 16h30 delivery.
On top of that was also our other clients of bedding & tablecloths.
Essentially, we were washing/ironing for about 20 hours a day. Later we were extremely fortunate in employing a fantastic lady that we trusted and we knew that she could stand in the gap for us when we just needed to get out for a cup of coffee together, or maybe have dinner with friends or family.
Anyway - all of this to say that this is why I loathe ironing.... It was purely I believe by the grace of God that we got that work when we needed it, and were able to do it. I wouldn't change this part of our lives ever because we learnt a lot about business, appreciating a good work ethic and discipline! However, I am not sorry that it is over.
SO now, I look up, obviously I am still on my couch (!), I see my ironing board, the iron is on and the pile is waiting, and while I wrote this, no-one came and offered to do it for me, so I guess it's going to be all me.
Let me stop procrastinating now - Nike would be proud of me, I am going to "
Just Do It!
"